Best Onions For Chili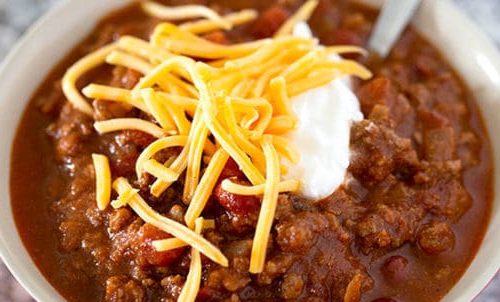 Onions are an essential ingredient in chili recipes, adding depth, flavor, and aroma to this beloved dish. While the classic yellow onion is commonly used and most popular for chili, there is a world of onion varieties waiting to be explored by you, especially when you can't lay your hands on some yellow onions. The aim of this article is to guide you into the world of onion varieties that can be used at any time for you awesome chili recipes, and you would still expect that chili awesomeness from it.
From mild and sweet options to bold and pungent choices, each onion on this list of best onions for chili brings a unique profile that can transform your chili into a culinary masterpiece. At the end of the article, you would have discovered the perfect onion for your chili recipes and unlock a world of flavor possibilities.
Onions For Chili That Won't Fail
The following onion varieties I've come to understand tend to produce the best and most beloved taste ad flavor in chili recipes. You should make your choice from the list. It is understandable that some varieties are not always readily available, the others make for excellent substitution.
1. Yellow Onion: The Classic All-Rounder
Yellow onions are the go-to choice for chili recipes. With a pungent flavor and a slightly sweet undertone, they add a robust and savory depth to the dish. They hold up well during cooking, providing a balanced flavor that complements the other ingredients in chili.
2. Red Onion: Vibrant Color and Mild Bite
Red onions offer a beautiful burst of color to chili. Known for their mild flavor and slightly sweet taste, they are often used raw in salads. However, when cooked in chili, they add a delightful mild bite while maintaining their vibrant hue, making your dish visually appealing.
3. Sweet Onion: A Touch of Sweetness
As the name suggests, sweet onions bring a mild and sweet flavor to chili. Varieties such as Vidalia, Walla Walla, or Maui onions are popular choices. Their low sulfur content contributes to their sweetness, making them an excellent option for those who prefer a milder taste in their chili.
4. Shallots: Elegant and Flavorful
Shallots, with their delicate and subtle flavor, add an elegant touch to chili recipes. They have a mild onion taste with hints of garlic. Finely minced or thinly sliced shallots blend seamlessly into the chili, creating a nuanced depth of flavor.
5. White Onion: A Crisp and Sharp Choice
White onions have a sharper and more pungent flavor compared to yellow onions. Their crisp texture holds up well in chili, and they impart a distinct, slightly tangy taste. If you prefer a more assertive onion flavor in your chili, white onions are a great choice.
6. Cipollini Onion: Sweet and Caramelized Goodness
Cipollini onions are small and flat, with a slightly flattened shape. They are known for their natural sweetness and rich caramelized flavor when cooked. Adding cipollini onions to your chili brings a unique touch of sweetness and depth to the dish.
7. Pearl Onion: Petite and Flavorful
Pearl onions are tiny onions that pack a flavorful punch. They are usually used whole in stews and soups, including chili. These small, bite-sized onions bring a burst of sweet and tangy flavor to each spoonful of chili, making them a delightful addition.
8. Spring Onion: Fresh and Mild
Spring onions, also known as scallions or green onions, offer a mild and fresh flavor to chili. The green tops provide a gentle onion essence, while the white bulbs add a subtle sharpness. They are often used as a garnish but can also be cooked into the chili for a milder onion presence.
9. Leeks: A Unique and Delicate Onion Flavor
Leeks provide a unique and delicate onion flavor to chili. With a milder taste compared to other onion varieties, leeks add a subtle yet distinctive sweetness. Sliced and sautéed, they contribute a refined touch to the overall flavor profile of your chili.
10. Maui Onion: Sweetness from the Tropics
Maui onions, native to the Hawaiian island of Maui, offer a sweet and mild flavor profile. These onions are often large and have a high sugar content, which results in a delightful sweetness when cooked. Using Maui onions in chili brings a tropical twist and a touch of sweetness to your dish.
Finally, choosing the right onion variety can significantly enhance the flavor profile of your chili. Whether you opt for the classic yellow onion for its robustness or venture into the realm of sweeter options like red onions, sweet onions, or shallots, each onion variety adds its own unique twist. From mild and sweet to bold and pungent, these 10 best onion varieties provide an opportunity to experiment and elevate your chili to new levels of deliciousness. Embrace the diverse world of onions and infuse your chili recipes with layers of flavor and aromatic complexity.